La conferencia ExpoMarketing 2016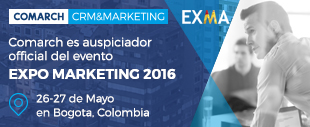 La conferencia ExpoMarketing 2016 (EXMA) se llevará a cabo los días 26 y 27 de mayo de 2016 en Bogotá, Colombia. Este evento es un importante lugar de reunión  para los profesionales de ventas y marketing de América Latina. EXMA cuenta con más de 5.000 asistentes, 36 presentadores, y más de 70 compañías de industrias tales como: retail, consumo masivo, banca y automotriz.
Comarch estará representada por Sid Dunn, Director de Consultoría para América Latina – Loyalty and Engagement Solutions, que ha preparado una presentación titulada "Innovation in Loyalty & Engagement: A Step Ahead of the Curve." Comarch es también uno de los patrocinadores de este evento.